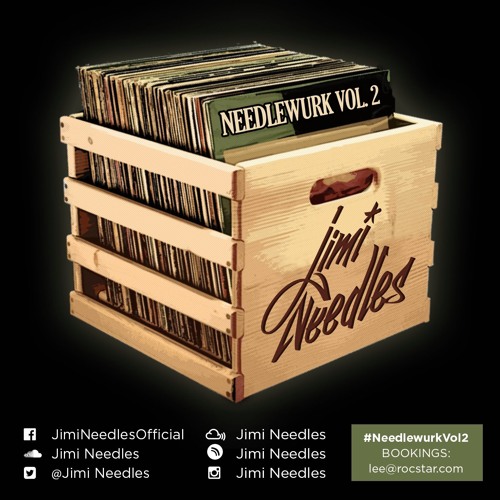 He's the main man for a funky night out in London town, and he's renowned for his face-smashingly funky festival sets . . . . which are just part of the reason why he is also a previous Funk and Filth Mix of the Year Poll winner [2014] as voted for by you lovely lot!
He is, of course,
DJ Jimi Needles
!
He's followed up his award-winning Needlewurk Vol.1 mix (which was the set that scooped him the MOTY crown!) with a frankly ridiculously delicious Vol. 2 compendium of beats! AND he's just unleashed a fan-funking-tastic new remix as FREE DOWNLOAD right here via Funk and Filth!
We simply had to catch up with the man to find out what makes him tick. Press play on this naughty mix and then read on to find out what he had to say . . .
What's the new free download?
I've flipped the soul standard ''Mr Big Stuff'' by Jean Knight and given it the Jungle Strikes treatment. Enjoy!
What's been your highlight of 2015?
Without a doubt my first appearance at Glastonbury Festival (Heaven Stage). Had a wicked set time in between the amazing Hypeman Sage and Ed Solo & Deekline - as it was Thursday, nothing had really opened and the main stages open Friday - you could really tell the crowd just wanted to go fucking nuts and party hard; the hype was brought!
Where is your favourite venue or event to play? Anywhere in the world?
I DJ once a year at Shambala Festival (UK), I've been DJing in the Social Club for four years now - same time every Saturday night. Every year it just gets better and better, and it's the first time as a DJ where I've started to see familiar faces and crews come back for that one set which is the most rewarding feeling. Until next year, Shambalans!

If you could form an ensemble, go back-to-back with any DJ or collaborate with any artist in history, who would it be with? And what sort of stuff do you think you'd make?
Les Claypool from Primus, hands down. Not sure what the results would be or what we'd come up with, but there is just no one that plays Bass guitar like him. The guy sounds like 3 or 4 guitarists playing simultaneously - insane! I'd also like to jam with JB's drummer, Clyde Stubblefield; that shuffle baby!!!
We like to think we're pretty sharp at recognizing upcoming talent in the bass music industry, and you must have recognized a few too. Is there anyone (DJ, musician, vocalist, producer . . . ) who you think we should keep our eyes on? Who is going to be big in 2016?
Would have to beSkope. Had the pleasure of meeting Alex last year. He's a phenomenal bass producer, he's had a solid year of releases and collabs, not to mention being one of the driving forces behind funky bass supergroup 'Wicked City', alongside Krafty Kuts & Erb n' Dub. Looking forward to seeing what he comes up with next year, his music always makes it into my sets and mixtapes.
What is your favourite bit of DJ/live music kit at the moment? Got any new gadgets to add even more punch to your performances or studio sessions this year?
I'm getting a custom Scratchophone made in the spring. I feel quite static when I DJ, especially when I'm performing live with hip hoppers Great Scott (@wearegreatscott). I wanna walk around on stage and scratch, is that too much to ask??
What's your view on the whole vinyl vs MP3/CDJ argument?
Are people still arguing about that!? Occasionally I'll play a funk/soul vinyl-only party, and it's liberating, if you have a screen, you will look at it. Nowadays I'll only buy albums I really REALLY like, killer 7" vinyl and anything sample worthy - charity shop digs etc. I think if you're DJing today, you are ultimately going to evolve into a producer - why wouldn't you? The result is you need a way of playing out your creations, edits and remixes on the fly, mp3s are the solution. Serato, for me, bridges the gap perfectly.
What are you most looking forward to in 2016?
Lots of exciting stuff already planned next year. 2016 brings imminent touring with "Ephemerals" (Jalapeno Records), we play soul music, and have a fair few shows and festivals confirmed - being on the road in a band is great laugh, and the music is fun to play (I'm on drums). I'm working on tracks that will make my debut album, got a few tracks and idea down, but there is no rush at the moment - I feel I've still got good ground to cover as a learning producer - making the leap from bootlegging the shit out of stuff on Acid pro to making a full blown album using Ableton is gonna take a bit of time! However, bootlegs will be in full flow - aside from the usual free tracks, there will be originals and bootlegs upcoming on Rocstar and Jungle Strikes. I feel I've got a great momentum on these labels and wanna keep on putting out stuff that I like. Drum & Bass and Funky Breaks (and maybe chuck in some Hip Hop and Electro-Swing too) can all be expected. I'm also finishing an album with band mate and long time collaborator Nic 'Mondegreen' Hillman, for now, the project can only be referred to as ''Goldhawk''. That's about all I can reveal for now!
For more Jimi, hit him up here . . .
FACEBOOK: www.facebook.com/jimineedlesofficial
TWITTER: www.twitter.com/jimineedles
SOUNDCLOUD: www.soundcloud.com/jimineedles
INSTAGRAM: www.instagram.com/jimineedles


Needlewurk Vol.2 Tracklist
1. (INTRO) Jimi Needles - The Sidewinder (ft. Baby Bam)
2. Great Scott ft. Jimi Needles - Day Job
3. StereoCool - Heat State
4. Wave Racer vs Galantis - Runaway World (Jimi Needles Loc'd Out Boot)
5. M.O.P - Ante Up (Acapella)
6. Defunk - Hard To Handle
7. Big Wild - Aftergold
8. Tonbe vs Zapp - Robot Drivel (Jimi Needles More Bounce Mash)
9. Drake - Hotline Bling (Jimi Needles Boogie Instrumental) (snippet)
10. Hermitude - Speak Of The Devil (K+Lab Reflip)
11. Major Lazer - Too Original (Topi & WY Remix)
12. A Tribe Called Quest - Scenario (acapella)
13. Wicked City - Furious
14. Jimi Needles - Jazz Trippin'
15. Jimi Needles - Here We Go Again
16. Jimi Needles - NWA Banger (Edit)
17. Cabo Blanco - 93 Til' Moombah
Jimi Needles 'Hardcore Scratching' Routine
18. Yolanda Be Cool & DCUP - Soul Makossa (Gambino Sound Machine Remix)
19. Diskord - Leave It All Behind
20. Slynk - Wiggle It
21. AMG - Bitch Better Have My Money (Acapella)
22. Spoonie Gee & The Treacherous Three - Love Rap (Acapella)
23. Lil' Clark - Glock Rocka (Jimi Needles Turn It Up Mix)
24. Jean Tonique - What You Wanna Do (Jimi Needles King Kunta Blend)
25. Tropkillaz - Baby Baby (Featurecast Remix)
26. TWRK - Helicopter (TA$C!ONE Remix)
27. Falcons - Boss Mackin' (ft A1)
28. Betty Swayne - Kiss My Love Goodbye (Jimi Needles Edit)
29. Milk & Sugar - Ready Or Not (Jimi Needles Edit)
30. Todd Terje vs Freestylers - Inspector Push Up (Jimi Needles Mash)
31. Jimi Needles - Hooked On A Feeling
32. Itsu Uno - Skorpio Dope Jam (It's A Trip)
33. Leon Lour - Turn It Up (JN Technologic Edit)
34. Nightowls & JVDAS - Check It Out
35. Neon Steve - Don Dada
36. Damian Marley & Nas - As We Enter (George Lenton Remix)
37. Danny T - Delicious (Acapella)
38. Skrillex & Jauz - Squad Out!
39. Krafty Kuts - Hustle
40. Jimi Needles - Jungle Boogie
41. Rusko - Lytah (Jimi Needles Stardust Refix)
42. Culture Shock - City Lights (JN Edit)
43. Gnarls Barkley - Crazy (Acapella)
44. Gammer & Whizzkid vs Major Lazer- Lean On Everyday (Jimi Needles Smashup)
45. Chris SU - Antiserum
46. The Prodigy - Wild Frontier (Featurecast Remix)
47. Sam Binga - Tek Nuh Chat (ft Redders)
48. Jimi Needles - When I Pull Up
49. King Exodus - I Love Life (Jimi Needles Jungle Refix)
50. Wickaman & Mavrik - Plug It In
51. Jamie XX - Good Times (Jimi Needles Remix)
52. Bill Withers - Use Me (Jimi Needles Remix)
53. Strange Talk - Painted In Gold (Robotaki Remix)
54. Fatboy Slim - Praise You (acapella)
55. Ephemerals - Things (pt1) (Digby Broadbank Edit)